Yesterday ended up being one of those unplanned days. You know - wake up with all these plans and do something completely different.
Here's the general timeline:
6 am - wake up to do some work
6:01 am - realize computer has a nasty bug
Postive: I didn't try to overcome it and/or put in credit card info
6:02 am - realize I left the external hard drives plugged into the computer; this means all my photos
7:15 am - call my boss to let him know
Positive: My boss is a former farm boy and I know he'll be up this early
7:30 am - feed the baby
Positive: she makes me smile even on a chaotic day
8:00 am - start packing all the stuff for the kids and I to head to Ames
One day - so MUCH stuff!
Positive: boys are so excited to go on a road trip
9:00 am - load car and leave
Positive: Alan had the mechanic listen to car the day before and thought it would be OK to drive
9:30 am - stop in Villisca for gas and donuts
So, the plan was to have pancakes on Pancake Day/Fat Tuesday.
Positive: German tradition was to make donuts and deep fry in fat to use up the fat. Ended up keeping with German tradition
.
11:30 am - arrive in Ames
Positive: who doesn't like a day in Ames
11:35 am - take care of some business at bank
Positive: we needed something out of the lockbox and this helped us retrieve faster than planned
11:50 am - get boys some lunch
Positive: they rarely go out to eat anymore so this was a HUGE treat for them even if it was McDonalds
12:00 pm - take computer to work
Have work done on computer - sigh of relieve that no files are harmed but need to kill time while it searches for bugs.
1:00 pm - go to church to change membership and visit with pastor
Positive: it was nice to visit
1:30 pm - head out to do some shopping
Why can't I say no when my children ask for books - it is my one weakness! We picked up a couple new Dr. Seuss books. These will come in handy next month when we do a Dr. Seuss unit celebrating his birthday.
Positive: we found some VeggieTale garden seeds and decided that would make a fun project to try at home
3:15 pm - go back to pick up clean computer
THANK YOU, THANK YOU, THANK YOU
3:30 pm - leave Ames
4:20 pm - going through Urbandale; realize Grant doesn't have teddy
Positive: could go back in my head to the exact moment I didn't remember seeing the bear. Grant allowed Paster to give Teddy a hug; boys started playing; don't remember bear after that
4:22 pm - pull off road and call church
4:25 pm - teddy is found; turn around and head back to Ames
5:15 pm - leave Ames for 2nd time in one day
Positive: Clark loved the extra time playing on my iPad - he was super happy it is travel worthy! Plus, he took care of my Smurf village all day :)
6:30 pm - stop in DeSoto for fuel; end up feeding kids and using potty
7:00 pm - on the road again
7:30 pm - stop in Adair for potty
Ah - traveling with a newly potty trained two year old.
Positive: he told me 1 mile before Exit to the nice new rest stop at Adair. AWESOME! Special bonus - family bathroom (I love places with family restrooms).
7:45 pm - Addie not happy after waking up last two stops
Positive: learn Addie loves VeggieTales Music and quiets her immediately - especially the Polka music type songs. Good little German girl.
9:00 pm - arrive home; daddy puts all to bed - including mommy. It's a long day with 3 little ones in tow.
Positive: the boys didn't care about all my plans that went awry; they just had a fun day out with mom and mom ends up with a "near loss" teddy story for Grant (now they each have a story).
Didn't get around to making these
Mardis Gras cupcakes
from
www.tidymom.net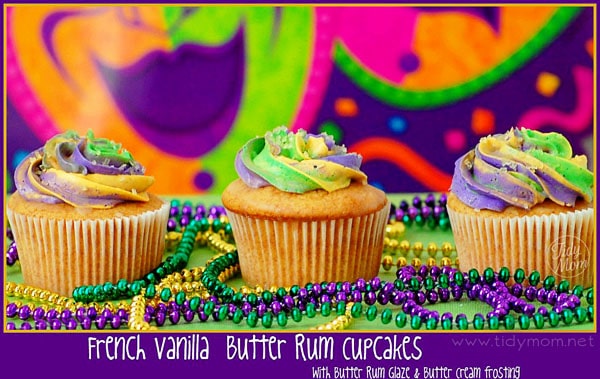 NOTE: if you want to Pin this PLEASE go to her website and pin it directly from there!
Made them tonight. Still need to make glaze and frost but so far so good. Click her photo to check out the recipe! The amount of rum does remind me of the heavy hand of my German host mom when she added liquor to cakes.